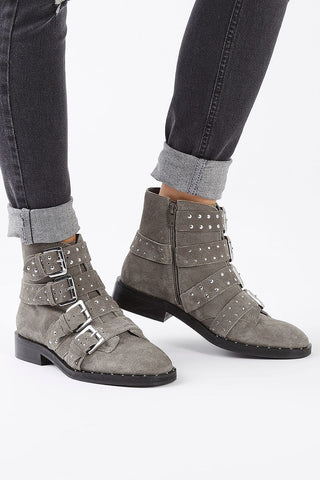 Every girls need a pair of STUDDED ANKLE BOOTS!
This fashion trend that seems to still hang in there and continue to claim its success is The Ankle Boots Trend. Anywhere you go on the streets, in stores, on internet, these trendy shoes are all over the PLACE!!
All the images are click-able if anything catches your eye!
We can find these boots in most of the stores and for every styles, hundreds of colors, different prints, and many textures. 
Here are a few boots for some fashion inspiration!
A simple way to gives a plus to the outfit and easy to wear for days and nights! These boots are indispensable for you.
Here are a few looks I've made up for some fashion inspiration!
We all love when we look taller, slimmer but heels are not the most comfy shoes to wear for the whole day or night... NOW you have the same result with your flat boots like UGG , flat sneakers like Stan Smith ....
SHOOZ'UP is the the answer of all your questions. 
You can win from 1,5 cm to 3,5 cm in any shoes you want with this secret heels, who's never wanted to look taller without any effort ??? 
Your legs will looks slimmer and taller with a SEXY posture. These hidden insoles provides many benefits to the body, more you use your heels more your butts will be firm.
Two sizes are available :
These secret heels work for any shoes, boots, sneakers. The only difference between these two sizes is the LIFT they will provide. 
They are very easy to wear, you only need to insert them into the heels of the shoe and you are done to be rock your day and night with Shooz'Up!!
           The mini: 1,5 cm lift                             The original: 3,5 cm lift