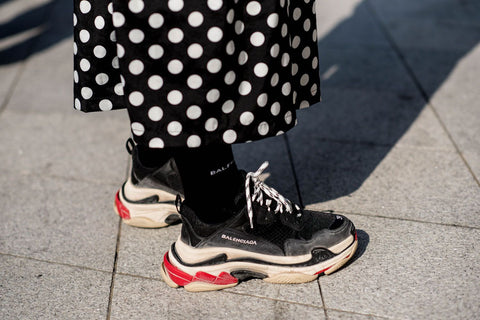 Unless you've been living in a cave for the past year, you'll have noticed that the most hyped sneaker around is Balenciaga's Triple S.
It's as polarising as them come: you either love them or you loathe them, but either way you can't ignore them.
How exactly do you style a shoe that consists of three stacked soles and looks like an orthopedic nightmare?
At Shooz'Up we've decided to help you 💆🏼‍♀️
Here's our pick of the best unisex Triple S setups seen on the world's coolest streets...
 A  moins de vivre enfermé dans une cave depuis un an, vous avez forcement remarqué les It baskets du moment, les Balenciaga Triple S.
 Vous les aimez, vous les détestez, mais vous ne pouvez les ignorer...!
La vraie question est de savoir comment styliser une chaussure qui comporte trois couches et qui ressemble à un cauchemar orthopédique?
Chez Shooz'Up on a décidé de vous aidez💆🏼‍♀️
Voici une selection des styles unisex en Triple S les plus cools du monde.
HERE THERE ARE :
Price : 850€ - OUT OF STOCK!
OUR PICK OF THE BEST
UNISEX TRIPLE S STREET STYLE