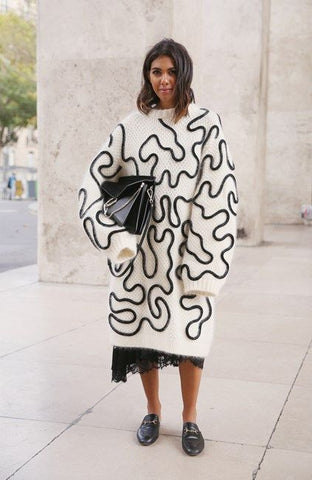 If you're not quite ready to grasp the total concept of winter, ease yourself into it gently, via autumn 2018's most practical fashion trend: the long sweater. You'll basically be owning a knit or similar that is part sweater, part coat, and a little bit bohemian.
You can style your whole outfit around it, and the best thing about it is that it's made for layering. That's your best friend at any time, but when the weather is unpredictable, or you're hopping between extremes of temperature, it's your pal for life (well, for some time, anyway).
Your long sweater loves textures, ribbing, cables and a fuzzy finish, and you'll appreciate its hoods and pockets (especially if the latter are leather). Give it some gravitas with a faux fur collar! Prints, patterns and stripes abound, although you may prefer not to copy Karl Largerfeld, who walked Gisele Bündchen down the runway in matching striped cardigan, leotard and booties. Team yours instead with skinnies and heels or ankle boots.
And of course add inside your shoes, a pair of Shooz'Up Mini, to be taller and more confident in your new outfit.
Match neutrals with darker shades and sunglasses, or be bold with bright accessories in yellow, red and blue. 
Wear over a pencil skirt for work, or with cuffed boyfriend jeans at night, but opt for torn denim and a beanie for weekends. Throw the oversize variety over leggings or leather pants, or go for a blanket style, and end with a slouchy scarf, which will also provide a great contrast if slung around a thinner cardigan.
The long sweater might be replaced in your affections one day, but we can't see it being any day soon. We're confident that you'll be in love with this trend for some time yet, so put those outfits together now!