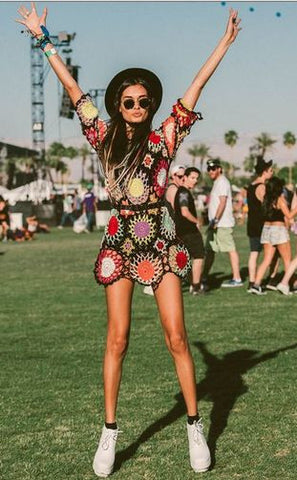 When Kate Moss stomped through the mud at 2005's Glastonbury Festival in nothing more than hip-slung short shorts and a pair of Hunter Wellington boots, a new age in festival footwear was born. In one fell swoop, the model and fashion icon had resolved the quandary of finding a chic and practical way to take on mosh pits, unpredictable weather, and even camping with singular style and comfort. In drier climes, that carefree, dress-for-your-surroundings approach gave rise to the now-ubiquitous moccasins and gladiators we've seen kicking up plenty of dust along the Coachella desert trails in recent years. But it's high time for a fresh look, and luckily this season there are plenty new shoes to choose from. For the festivalgoer who wants to remain a step ahead of the crowd, meet this summer's best concert shoes.
Think Tabitha Simmons's chic gray hiking boots—a fun and leg-lengthening play on hitting the trails on the way to the stage. Miu Miu's metallic flat cowboy boots, trimmed in pink kitty cat embellishments, cheekily put the "Wild" back in the West. Ditch the been-there gladiator for the platform espadrille from Gucci or the vibrant Chloé knotted leather wedge sandal. No matter what you choose, there have never been more appealing new options for stepping up your front row shoe game. Kate Moss would certainly approve.
Above, the best new festival-worthy boots, sandals, and everything in between.
Vans - 50€
Tabitha Simmons - 795€
Burberry - 395€
Timberland - 150€