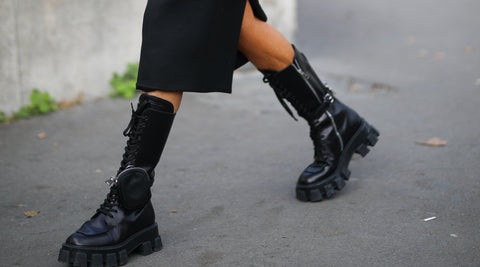 HOW TO WEAR COMBAT BOOTS THIS WINTER  ?      
   We all want something stylish, something that do not scream "rainy day" but that keep feet dry. Something that we aren't afraid of ruining in mud or wet grass.

   Combat Boots! They're practical, never out of fashion, but not usually categorized as something patently trendy.

   So, Just for you Shooz'Up users, this is our selection of COMBAT BOOTS :

   FOUR perfect boots from PRADA, Dr MARTENS, ARKET , &OTHER STORIES combined with FOUR different styles wore by fashion celebrities as Chiara Ferragni, Hailey Bieber, Hana Cross (B.Beckham ex-Girlfriend) and Jessie Bush (Wethepeoplestyle)

 This boots' selection can all welcome a Pair of Shooz'Up inside to get your feet comfy inside and get the extra lift to be taller and look slimmer!
CELEBRITIES & COMBAT BOOTS
Like Chiara Ferragni in Dr Martens or Jessie Bush in Prada
Like Hailey Bieber or Hana Cross (Brooklyn Beckham's ex Girlfriend)
WOULD YOU LIKE TO GET YOURS...?
This is our selection (click on image for link)
Price: 145€ 
-------------
Detachable-pouch leather and nylon combat boots
&OtherStories 
Price: 149€
Arket
Price: 175€
WANT TO WIN HEIGHT ?
You are 165cm, You will be wonder woman with 169cm in flat shoes!
100% INVISIBLE
GOOD FOR YOUR BACK
GOOD FOR YOUR CONFIDENCE