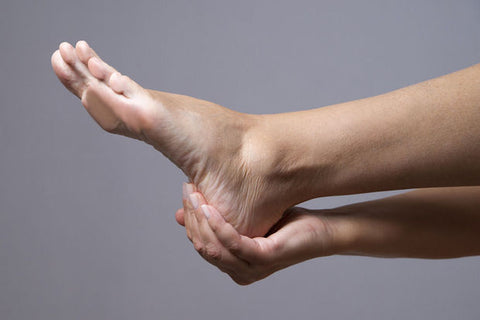 While science has time and again supported this theory that "Wearing flats is much better for your feet (and enjoyment) than wearing high heels" with numerous reports revealing the damaging health results of wearing heels, flats aren't completely out of the doghouse either.
The biggest problem with flats is the lack of shock absorption that comes along with thin, unsupportive soles. As your foot slams into the ground again and again, your heel bones take the brunt of the impact, and that can lead to problems over time. 
We delved deeper to find the most upsetting risks we ladies (and mens) take every time we step into our trusty flats—and many of these will likely shock you.
Keep scrolling to learn the five most upsetting facts you never knew about wearing flats…
1. Unsupportive flats have been shown to cause Plantar Fasciitis
How to prevent it: Make sure your flats have plenty of arch support; avoid super-flat shoes with thin soles.
2. Overly flat shoes can Fallen Arches, Tearing Tendons
How to prevent it: If you are starting to feel pain along the bottoms of your feet, see your doctor sooner rather than later. And invest in quality flats that give your feet plenty of support
3. Ballets Flats can cause ingrown toenails and even bone infection
How to prevent it: Make sure your toes have plenty of breathing room when you try on a new pair of flats. You should be able to wiggle them around freely and feel no pain. 
4. FlipFlop can lead to various back, hip and including misalignment in your spine, pelvis and knees
How to fix it: Give up your beloved flip-flops for good, reaching instead for a great pair of supportive sandals.
5. Flats without Shock-Absorbing Heels put more pressure on your heels
 How to fix it: Get a pair of low-heeled or block-heeled shoes instead of flats. A shoe with a broad, thick heel is often much better for your health than a pair of flats.